Batman: The Animated Series is one of my all time favorite shows. It was unfortunate that it only ran from '92 to '95 counting 85 episodes. It was a young kid at the time, dreaming of becoming Batman. But enough about me. As a big fan of the show, I decided to review a couple of absolutely great Batman Animated Statues which are super cool Batman stuff.
So which Batman Animated Statue should you get for your collection:
This one of the best Batman statues was designed using the opening title sequence of the animated series as inspiration. It uses a Vignette style that is meant to reflect the skyline of Gotham and towards the back of the statue you will find 3D bolts of lightning which really make the statue come alive. The paint on the statue is well done and it might be a smaller statue, but the heft of it encourages durability. You can tell they utilize high-quality materials and cut no corners with producing it. The cape being thrown into the wind really captures the idea that Batman is ready to take on anything to protect Gotham city. If you can throw lights on the statue, you can really make it pop.

Pros:

1. Excellent Design

This statue features a design that really captures the very essence of Batman. Even the little details put into the statue like having the sculpted bat signal shining against the skyline really make this a statue worth having.

2. High-Quality Material Construction

The statue is made up of high-quality materials that make it very sturdy and durable.

Cons:

1. Lights

This statue really stands out when you put lights against the lightning bolts which could have been a great addition to it. While you can always add your own, the price is fairly high to need to add to it.

If you are a statue collector, the Batman PVC statue might be at the top of your buy-list. It is simply outstanding. The level of detail that went into the creation of this statue is outstanding. It's smooth lines really make it look like you are looking right at a real-life animated statue. From first glancing at it, you can tell that the statue was based on the classic animated series and it truly encapsulates exactly that. The figure itself is 9 inches in scale which means it will fit well right along with the Robin PVC statue that stands 10 inches. In the statue, Batman is getting ready to throw his Batarang which makes it a fantastic addition to the series.

Pros:

1. Paint and Design

The paint on this statue is flawless. The level of detail that went into this statue is incredible and it fits well alongside the rest of the line.

2. Great Pose

Having Batman throwing his Batarang is a classic pose and it looks great.

Cons:

1. Sturdiness

The base of the statue doesn't seem to maintain the kind of sturdiness that you would expect. However, the statue is very affordable compared to a lot of the other statues you will find which makes this a drawback that doesn't ruin the package.

Overall, this is a statue that is worth buying for any Batman statue collector.

"
"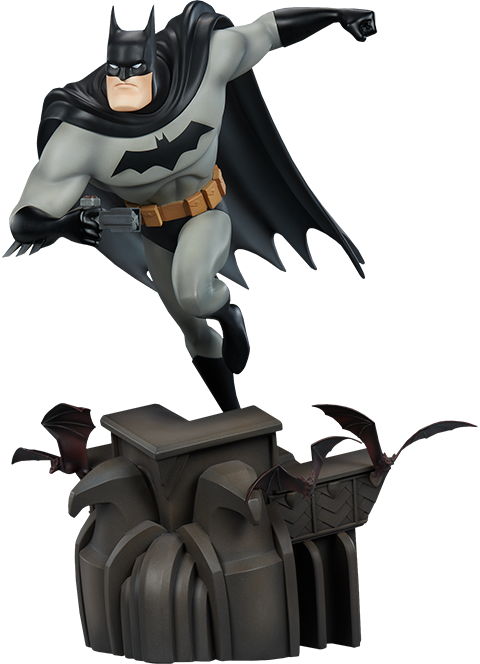 The Batman Statue by Sideshow collectible sells for just $425, which is a fair price because it is a limited edition piece. Not only that, but we love that the statue is extremely detailed. All aspects of the statue has great detail, and this includes the mask, cape, gloves and even Batman's face. The statue is extremely realistic.
Another good thing about the statue is the overall build. It is built solid, so it's very durable and should last a longtime. As long as you take good care of the statue, you can count on it remaining in excellent condition.
Furthermore, it was made with resin. This is another reason why the statue is durable. Not only that, but resin is easy to clean. From time to time, all you have to do is use a cloth to wipe down the Batman statue, and this will keep it looking new.
Generally speaking, the Batman statue is perfect. If we had to say one negative thing about it, we would say it could have been a bit taller, as it stands at 16″" tall. This is just a matter of personal preference, but we do highly recommend buying this statue to add to your collection of Batman figures or to start your collection.
If you are a fan of the animated series, you are likely interested in the entire animated series line. Your collection wouldn't be complete without the Batcycle and Batman action figure set. The height of the figure stands at 6-inches and it even comes with an interchangeable head with a helmet.
Pros:
1. Swapping Heads
While it's fantastic that they included an interchangeable head, the process of swapping them is tedious and difficult.
2. Good Attention To Detail
The entire figure and bike are very well done. There is a lot of attention to detail that you can appreciate including having a very cool light-up feature.
3. Cape
IT is very easy to play around with the cape to make it look dynamic as if he's going incredibly fast.
Cons:
1. Swapping Heads
While it's fantastic that they included an interchangeable head, the process of swapping them is tedious and difficult. Likewise, getting his hands on the bike can be rather difficult, as well.
2. The Base Needs More
The base itself is sturdy enough but it could use some more design or inspiration. However, you are likely not purchasing this figure for the base anyways. The simplistic base design doesn't detract from the exquisite bike design.
This is a figure worth getting. If you are a fan of the animated Batman series, it's a must-have. Not only is it high-quality with an excellent design, but it's large enough to stand out on your display shelf, especially with the included light-up feature.
This Robin statue stands 10″" tall and it features a design that encapsulates his class red, yellow, and green outfit. This sculpture features a lot of the intricate design details and elements from the PVC line. It fits well alongside the PVC Batman if you want to group them together. The design features Robin spinning his bolo which is a very good fit if you are pairing him with the Batman statue.
Pros:
1. Class Design
The design of the statue itself is fantastic. It maintains that classic feel that you would want from a design inspired by the animated series.
2. Build Quality
This statue retains the high build quality you would expect from the series and the paint is really well done.
Cons:
1. The Base
The base is rather plain. While it does work well with the rest of the series, they could have added a few details to it to make it just as good as the design of the character itself.
The statue makes for an excellent pairing with the Batman statue released in the same line. If you are pairing them together, it is a must-have. Even if you aren't, the statue features a traditional design that can really look good on your shelf on its own.
The Joker Statue is designed for fans looking to add something detailed, unique, and intricate. With its refined touches and eye-catching colors, this is a world-class depiction of a renowned character.
Key Features:
* Interchangeable Face Parts
* Trademark Pose
* Includes Bonus Face Parts
* Dimensions: 2.54″" x 5.08″" x 6.26″"
The Joker figurine offers a long list of benefits including a breathtaking pose that is eye-catching as soon as someone takes a look. It has a certain poise and excellence to it that is thought-provoking and will look amazing as soon as it is displayed.
With the tremendous post, interchangeable face parts, and well-sized dimension, this is a good fit for those looking to add to their collection with an authentic piece.
The attention to detail is inspiring and will offer a perfect option for those wanting to get the best version of Joker for their shelf.
Final Thoughts
This gorgeous figurine is a wonderful example of what the Batman universe is all about. It encompasses the finer details of Joker down to that trademark grin of his. The interchangeable parts are a versatile option to have in hand when it comes to manipulating how the figuring appears once put together.
If you are a fan of DC comics, what isn't there to love about Harley Quinn? After all, her character is well constructed just like this statue. As a collector, this Harley Quinn Artx+ statue cannot be missed. It captures the very essence of her animated character and it has zero imperfections. There are included Joker faces that you can use with the corresponding Joker statue. This can be seen as an extra value that puts the statue package over the top.
Pros:
1. Attention To Detail
Everything from the pose to the paint to the included accessories is absolutely spot on. The detail you can find on the gun really stands out. This is exactly the kind of attention to detail you would expect from Kotobukiya and they certainly deliver.
2. Magnet/Metal Base
The magnets in her feet allow her to stick very strongly to the base which makes the entire statue feel sturdy.
3. Extra Faces
You get various expressions that can help you set the right mood for how you want to showcase the statue with other characters on your display case.
Cons:
1. Smaller Figure
This figure is smaller than you might expect at 6 inches in height.
This is a must-have for any fan of the Batman animated series. This design was inspired by her original introduction and it comes with 3 different interchangeable face designs that can let you display the emotions you are looking for. The base itself along with the magnets found in her feet makes it an incredibly sturdy figure in your display case. It's a fantastic offering in both design and quality.