Choosing the best Batman statue is truly impossible. Every day I stumble on new ones which I would love to own. From all the Batman merchandise that you can buy, the statues are by far my most favorite.
Index 
Batman Dark Nights Metal Statues
I just love these Batman Dark Nights Metal Statues. Most of them are still in pre-order when writing this review. But the ones that are available look amazing! You should display them with a Batman Statue in the middle. It will look like they are ready to attack him.
One of the best DC Collectibles Dark Nights Metal Statues is this Batman: The Red Death Statue with a design based on the Greg Capullo art. Djordje Djokovic sculpted the statue. It displays the fastest and deadliest man in the dark multiverse, The Red Death. The detailing brings out the evil speedster with bats created after the transfusion of the superheroes, Batman and the flash.
It's an excellent addition for anyone who loves the Red Death Superhero. It is crafted from Polynesian with a superb detailing of the Cascade of the speed force and the summoned bats merged into one stature. As a top-quality unit, the statue stand 8.2 inches tall and limited to 5,000 individual pieces.
This DC Collectibles Dark Nights Metal statue is a high-quality The Batman Who Laughs Statue. It was designed by Greg Capullo and sculpted by Jason Frailey. The sculpture features Batman in his classy black attire laughing and surrounded by Robin Minions. He stands tall while imposing while three chained Robin Minions surround him.
His laughing face is here to haunt your nightmares. It's a great piece that represents the comic in an iconic way possible while also bringing out the Grey's Capullo design on the character out. The statue stands 8.135 inches tall, making it a great addition to your shelf.
If you do love the Batman The Devastator Comic, here is a DC Collectibles Dark Nights Metal you will adore. The Batman, the Devastator, is a piece of comic art designed by Greg Capullo and sculpted by the famous Jason Frailey. The statue is meticulously crafted from Polynesian and stands tall, approximately 9.1 inches.
It's about Nightmarish Fusion of two superheroes big and robust enough to take down the man of steel. It captures the absolute essence of the devastated all-potent creatures formed when the unstoppable, powerful Doomsday fuses with the Batman unmatched brains. It also catches the cragged bone skin and red eyes of the unspeakable devil, a great addition to Batman, the Devastator enthusiast's collections.
The Batman, the Murder Machine Statue from DC Collectibles Dark Nights Metal, is a piece of art designed by Greg Capullo and done by Paul Harding. What makes it an excellent article is the detailing it brings out about the fusion of the Cyborg's technological power and the Batman's tactical brilliance.
The character was born when the all-powerful AI program that was designed by Cyborg started to misinterpret its coding into the homicidal ends. The piece captures the mayhem and menace expected for the Murder Machine. It comes limited to 5,000 pieces and individually numbered. It's a great addition to any lover of the Batman the Murder Machine and measures approximately 6.1 inches tall.
Batman The Dawn Breaker Statue, a DC Collectibles Dark Nights: Metal statue, comes crafted with delightfully creepy details from the comic, which makes it stand out on any shelf. It's a design done by Greg Capullo and sculpted by Adrienne Smith.
The idea comes from the sinister fusion of the Batman and the Green Lantern of the Dark Multiverse. The statue is carefully made from Polyresin and stands 7.39 inches tall. It's a must-have for you if you do love Batman or the Green Lantern. And you what, you better act fast! The statue comes in 5,000 copies only, and it'll be made available during its start run.
Dark Nights Metal: Batman, The Merciless Statue from DC Collectibles, comes to a classy multicolour piece of art ideal for any shelf. It's a statue of the bloodthirsty merciless, which is a nightmarish fusion of the Batman and the Ares. As a member of the dark nights, the being is a supremely powerful warmer. From the comic, he does take Batman's best tactical skills and pair them with the Ares might.
And this 8.46 inches tall Polynesian statue brings out that picture with its Miniseries art menacingly detailed on it. Its clarity runs from the fabulous amplified Ares-Batman helmet, which corrupted the caped crusader to the shiny chains, which highlights the blazing amour. With that, the statue will command your whole room no matter where you place it.
The DC Collectibles brings you the Dark Nights Metal Batman art piece, the Drowned Statue. The art was designed by Greg Capullo and sculpted by Adrienne Smith. It brings out the character created after the nightmarish fusion of the gender-flipped Batman and the Aquaman- The drowned.
She Batman spices with her DNA with the Atlantean's to become the Super-powered Dark knight. All this was to allow her to breathe and fight underwater in a quest to avenge Kyle. As a carefully detailed piece, it highlights her unique character design of the mashup. Bruce Wayne, the Batman, came from earth 11 and hid in the deep Atlanteans hatred for the role in the death of her dear Sylvester Kyle.
Kotobukiya Batman Statue
If you're looking for the best Batman statues, you should take a look at the Kotobukiya Batman statues. Kotobukiya is known for their incredibly detailed sculptures. Paint jobs are always without any flaw and the details are just out of this world. You can never go wrong with a Kotobukiya statue.
This Kotobukiya Batman Statue is one of the classic ones from Kotobukiya. This sculpture is based on the Batman from Jim Lee out of the Hush comic. I love this statue. You can really feel the muscles on this Batman and not in a creepy way. Also, the cape is absolutely amazing. It looks and feels a little bit torn at the end which makes this a very cool thing.
You should make some room for this statue as it measures 11 inches tall so 1/6th scale. This sculpture also features the iconic Batman Utility Belt which we all secretly dream of owning it. This Kotobukiya Batman Statue comes with a base which can be a little though to put together but it is definitely worth it.
The quality of this statue is amazing. The paint job is flawless and even the finishing around the cape is perfect.
If you are a fan of the movie Batman vs. Superman, you should really take a look at this Kotobukiya Batman Statue. In this sculpture, Batman is wearing the Mech Batsuit to take on Superman. This Batman is actually part of a pair which is this Kotobukiya Superman statue. You really should have both as they look amazing together.
Like all Kotobukiya statues, this Batman statue is made out of hard plastic but it looks absolutely great. This figure is 1/10th scale so around 6 inches normally.
Again the quality is out of this world like Superman. The paint job and the details are flawless so you can't go wrong here with this pair.
Why only settle for Batman when you can own the most popular dynamic duo ever created in the comic universe. When putting them up, I literally had the feeling that I ripped them right off the pages of Frank Miller and Jim Lee's All-Star Batman & Robin, the Boy Wonder. I really like the extra touch where Robin is holding a Batarang, ready to launch it into an attack. Also, the aggressive pose from Batman just tops it all off.
To get into the specifics: Batman stands around 6 inches tall and Robin 4 inches so they are 1/10th scale. It comes with a display included. The cool thing about this is that in the feet of our heroes, there are magnets. So they will stay perfectly stable on the display. So you don't have to worry that they will fall. Also, the contrast between the grey & black from Batman and the yellow and red from Robin just makes this an amazing statue.
I couldn't find any flaw on these statues. The paint job is without any doubt amazing. I have turned them 100 times over when I got them but couldn't find any spot that was wrong.
Batman Who Laughs Statue
If you are looking for a one of a kind Batman gift, you have come to the right place. A Batman Who Laughs Statue is something that every serious Batman collector wants/needs to have. For those who are not familiar with the Batman Who Laughs. He's a supervillain that combines the Dark Knight and The Joker into one. He comes from Earth -22 and made his first appearance in September 2017 in The Casting #1. Imagine these crossover Batman Joker Statues in your batcave and you are hooked.
This figurine depicts "The Batman Who Laughs" from the DC comic hit, Dark Nights: Metal. This character is a "Jokerized" version of Batman, a supervillain who leads the Dark Knights. He is one of the main enemies of the Justice League. This figurine stands at about 9 inches tall with a detailed sculpt and exact details in the paint job. The design was inspired by the artists of this six-part comic series: Greg Capullo, Jonathan Glapion and FCO Plascencia.
This figurine in particular displays Batman Who Laughs as he stands on a pile of jagged rocks. Here, he holds a card in one hand and a long chain in the other, of course with that evil grin on his red clown lips. His costume has gold accents, which makes it unique from other designs. The figurine is made out of high-grade plastic and comes in a full-colour window box. Customers give this product five stars for accuracy and for its financial value. They enjoy how this figurine is cheaper, but still maintains a gorgeous sculpt. A minor issue seems to be the window box, which is sometimes omitted from packaging or comes destroyed.
It might surprise you to know that this is the first statue based on "The Batman Who Laughs." An official character from DC Collectibles, it looks like it was ripped from the pages of the comic book. This figurine was designed by Greg Capullo, an artist who worked on the Dark Night: Metal series, and sculpted by Jonathan Matthews. It measures approximately 7 inches tall. Much like the previous figurine, the Jokerized Batman wields a long chain in one hand. His other hand raises in a menacing pose, emphasizing his malevolent character. He stands on an oval-shaped platform, which helps the figurine stand perfectly upright.
Unlike the figurine from Diamond Toys, this figurine is more monochromatic, with a strict black and white palette. Furthermore, this is a limited edition Batman collectable, since there are only 5,000 of these amazing statues. Customers especially love this product, with 92% of its reviews as five-star ratings. Multiple customers purchased this item as a gift for Batman fans, and they all adore it. Only one customer had an issue because the collar arrived broken, but this could be a fluke.
This figurine not only features "The Batman Who Laughs," but his sinister Robin minions as well. This model was designed by Greg Capullo and sculpted by Jason Frailey. There will only be 5,000 available when this collectable is released to the public for purchase. Out of all the figurines, this one has the most amount of colours and vibrancy. Even though the Jokerized Batman wears mainly black, the Robin minions don the signature red and green suit.
The three minions pose in a threatening manner at their master's feet, ready to attack on his command. A cool detail you might not notice is the red outline on the black surface of the platform, which the middle minion has dug his claws into. This statue is certainly the most frightening out of all the designs with the addition of the minions. It measures 8.135 inches tall and weighs 2.2 pounds. However, at the moment, this product is not available for purchase. Therefore there are no customer reviews in which you can base your decision off of. It will be released on February 26, 2020, but you can pre-order it in advance.
I already showed you my favorite Batman Who Laughs Statue but I really want to show you this one as well. You can't order it yet because it will only be available from May 2020. So I haven't been able to review it. But I'm already a fan. This is really the Batman that will haunt your dreams. I really like the way he holds his hands like he's telling you his evil plans.
This statue is quite tall as it is 1/6th scale or around 11 inches. It is already available for preorder so you can go ahead and purchase it. But you will have to have some patience before you can enjoy it.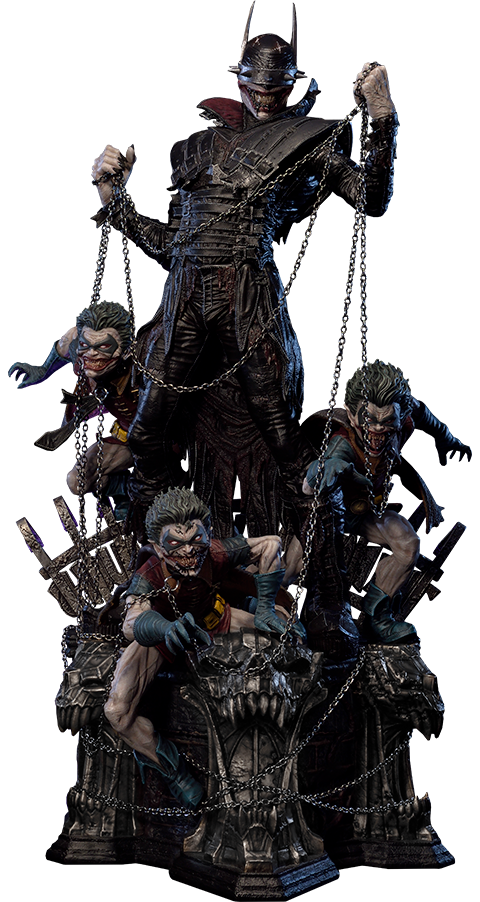 If you liked "Dark Nights: Metal," you'll want to get your copy of this Batman Who Laughs statue. Created by Sideshow and Prime 1 Studio, the Batman Who Laughs is a villain, a Joker-like version of Batman, and the Dark Knights team leader. He is on a mission to help master Barbatos bring chaos and darkness into the Multiverse.
This statue is approximately 33″ tall and it is made with an impressive attention to detail. As The Batman Who Laughs statue is a limited edition, you should order yours as soon as possible. Your Batman collection won't be complete without it.
Batman Black And White Statue
I only listed my favourite 5 Batman Black And White Statues. But there are a lot more and if you have them all, this is it how it looks. Isn't that just beautiful?
With a limited 5,000 pieces in circulation, Marc Silvestri's Batman statue is a highly sought after collector's item. The breathtaking presence of the original artwork is captured in solid 3D likeness. Made from cast resin and sculpted by neobauhaus, it brings to life a superhero legend.
Why We Love This Piece
-There are so many careful details captured in the statue. Starting with the cape right down to the folds of the leggings, it has a real presence.
-The pose is unique and not seen in other renditions. Batman is sitting on a throne-like chair and showing off his full power.
-The statue is great at capturing the likeness of Batman with the attitude and artistry of Marc Silvestri. This DC collectible does take a popular subject and add a fresh outlook.
-The resin construction makes it more durable and long-lasting than other choice materials for statues.
What Could Use Some Improvement
-It appears that quality control remains a major issue. Though most pieces are in perfect condition, some are reportedly painted sloppy or nearly too fragile to handle.
Batman by Marc Silvestri is another great addition to the DC black and white line. It offers quality, vision and a collectible that is sure to become a fan favorite for years to come.
The Batman by Gerard Way statue is a great buy for fans of Batman. One positive is that it has the designs seen throughout Gotham printed on the inside of the figure's cape. It also is white and black making it look more like a comic book that has come to life. You'll enjoy the fact that it was made by Gerard Way, because he is a famous rock star that was in a band called My Chemical Romance so he obviously is in touch with his artistic side. This is sure to make a great gift for anyone that loves the character Batman.
Some things that you may not like about the figure include the fact that it's not very colorful when compared to other characters in the series. Sure, Batman is a mostly black figure because what he wears isn't very colorful, but that doesn't mean that there can't be embellishments that add some color to the figure. Another negative is that it is a fairly expensive figure but it is one of those things that are worth what you'd expect to pay for something custom made. Since there were only around 5000 made, the price will just go up as more and more are sold.
If you are a collector, you may have had your eye on the Batman by Joe Madureira statue. This statue was designed straight from a variance of the Justice League: Rebirth #1 cover.
Pros:
1. Limited Edition
Whenever you are considering a product like this, you want to have something that was produced in limited quantities. That way, you know that you are one of the few who has it and that it will continue to appreciate in value as time goes on. This statue had a production of only 5,000 units and each one is individually numbered.
2. Strong Character Design
Unlike some of the other batman statues you will find, this one features one of the strongest designs. It was taken directly from the variant cover of the Justice League: Rebirth #1 cover and it was sculpted into a 3D design with bold and graphic lines which make it look very unique.
3. Good Build Quality
When buying a statue, you want something that is made up of high-quality materials with good attention to detail. That is exactly what you are getting with this Batman statue.
Cons:
1. Expensive
Because this statue was produced in limited quantities, you can expect to pay a lot for it. The price is only going to continue to go up as the production stock runs out.
Overall, this is one of the more unique designs you will find. If you are a Batman collector, it's a must-have for sure.
Standing a mere seven inches tall, the limited edition Batman statue captures the vision and artistic license of Sean Murphy. Painted in pure black and white, the attention to detail makes this statue a highly sought after collectible for fans worldwide. The likeness of Batman is captured in cold cast resin and breathes 3D life into Murphy's artwork.
Why We Love This Piece
-High quality finishing right down to the folds of Batman's clothing. Each statue is perfectly posed for action and solid when sitting on a flat surface.
-The value of this piece will only skyrocket in years to come. As it is a limited 5,000 piece edition, collectors are going to want to invest now before the collectible becomes rare.
-Solid craftsmanship and sculpting is visible on every piece. Each small detail is handpainted with great attention. Unlike other lower end collectibles, the black and white collection really focuses on quality design.
-The size of this piece is ideal. Though not quite a large statue, it has just enough presence to notice from afar without becoming overbearing or bulky. It fits into most curio cabinets and easily becomes the perfect desktop companion.
What Could Use Some Improvement
-Quality control could definitely improve to ensure all pieces are painted the same. In some instances, it was also reported that the statue may have been cast crooked.
Overall, a solid investment for collectors and most pieces surpass expectations. It is also projected that value will only increase.
Designed by Jock and sculpted with attention to detail by Mike Locascio, Batman is forever preserved in cast resin. This second edition statue is a popular fan favorite and stands 8.75 inches tall. With all new paint and a designer base, this work of art is a welcome addition to every collection.
Why We Love This Piece
-The statue is able to capture Batman in flight, making this the most dynamic piece in this line. Defying gravity, the statue looks like it's flying through the air.
-Amazing details are given to Batman in this black and white statue. He is holding a wire grappling hook and his cape appears to billow in the wind as he free falls.
-The nice modern stand provides solid footing to display the statue. It prevents it from tipping over or from becoming too fragile to display.
What Could Use Improvement
-Quality control is on par with this release, but factory packaging is not. Reportedly, many collectors have received less-than-perfect condition pieces due to a lack of proper packaging.
Grayson as Batman by Jock Statue is a solid addition to every collection and an investment. It is virtually the only piece featuring a unique dynamic pose and such a close attention to detail.
Batman Arkham Knight Statue
The Batman: Arkham Knight video game broke all records for the series when it was released in June of 2015. Not only was it the fastest-selling game of the Arkham series (selling 5 million units by October of that year) – but also the fastest-selling game of 2015. The reimagining of Batman for this game led to yet another reincarnation of this DC superhero – but this time his costume is even more menacing than ever before. The limited-edition DC Collectibles Batman: Arkham Knight statue measures approximately 9.5″ high and is incredible in its detail.
The statue, designed by Gentle Giant Studios is the perfect collectible for anyone interested in the DC Universe. Buyers have commented on the detail of the piece (and the very high standard of the paintwork) which is especially impressive given the relatively low price point of the statue. The heft of the statue (at around 3 pounds) is also impressive.
This statue is the perfect gift for those who are DC fans – or who enjoy the great games that are produced by Rocksteady Studios. This is a piece that will stand the test of time – and is perfect to add to a growing collection of the ever-evolving Batman aesthetic.
Batman: Arkham Knight has become well known for the depth of its gameplay, stunning visuals and game mechanics. It has also been one of the most successful titles ever released by Rockstar Studios – becoming 2015's best selling game title.
For fans of the DC Universe and perhaps it's most iconic figure – Batman, the Dark Night having a statue based on the superheroes exploits in the video game has become almost obligatory. However, finding a quality depiction of Batman to take pride of place in a collection can be challenging – there is just so much choice.
One of the best of the bunch is the Kotobukiya Knight Batman Statue. This rendition differs from other static imaginings through the clever use of a modular base system, which allows the collector the opportunity to customize the display.
The 1:10 statue captures batman mid-leap and the multi-piece base set allows for unique expression and a fluid display which is true to the Batman ethos.
With dimensions of 9 x 6 x 6 inches this modular display unit will delight those who are serious fans of the DC Universe – and its iconic Batman character, which will impress with its superb attention to detail.
This is the perfect addition to any DC collection.
The Kotobukiya Arkham Knight Video Game Statue is the latest addition to the DC Comics statue line. A modular base that's fully customizable adds form and function to this smoothly painted statue. The villain has the ability to tackle the hero, rush over rooftops or even break through a glass wall- all based solely on your customization! This set offers the ability to create the perfect diorama display for your statue. Modular building pieces include joint parts, architectural elements as well as square and rectangular forms.
What's more is that Arkham Knight's display is interchangeable with Batman's, allowing you to display the perfect fighting sequence! All bullet holes found in the walls are the ideal 4mm to allow Frame Arts model kits or the Modeling Support Goods of your choice. Play with and design your perfect diorama using other ArtFX+ favorites!
Imported by Kotobukiya, the Arkham Knight statue stands about 10 inches tall with amazingly realistic features. Painted just like your favorite comic book villain, this is one realistic statue you won't want to miss! Intense and mesmerizing as just some of the ways collectors have described this statue. With a display you can keep changing, Arkham Knight will forever remain dynamic.
For video game lovers the release of Batman: Arkham Night in 2015 was reason to celebrate. The moody ambiance and exceptional gameplay propelled the title to 2015's best selling game status – and playing it one is immediately aware that one was involved in a gaming experience that was (and is) something special. Celebrate this exceptional experience and one of DC's most iconic characters with the Iron Studios Batman Arkham Knight deluxe 1/10 Art Scale Statue.
This 11 4/5-inches tall polystone creation is exceptionally detailed and the handcrafted paintwork alone is worth the investment.
The base display allows this statue to tower over similar creations, while the cape, crafted using real material lends an air of realism to the iconic Dark Night in his incarnation in this stunning video game.
The care taken in crafting the statue is immediately apparent in the attention to detail that has become the hallmark of creations from Iron Studios of Brazil. This is a statue that will take pride of place in any collection. It is a celebration of not only the iconic Batman character and the video game itself – but also of the DC Universe canon. It is the perfect gift for any DC fan – and the perfect addition to any collection.
The Arkham Knight red hood statue is a limited edition toy that's a must-have for those who are a fan of Batman movies and/or comics. The statue replicates the popular character in "Batman: Arkham Knight," which is a popular video game. Furthermore, the Arkham Knight statue was sculpted by Majid Esmaeli and stands at just over 10 inches high.
The statue is very detailed, and features the character with the hood up and weapons drawn. The paint is worth mentioning too because it is very detailed, and done to perfection. If you're looking to start your collection of Batman characters or you want to add to your collection, then look no further than this one.
As previously mentioned, the statue is limited edition, so it's a good idea to purchase it as soon as possible. You can purchase the red hood statue for yourself or to give as a gift. If you're not interested in keeping it as part of a collection, then give it to a kid that loves Batman toys.
As for price, it costs around $120, which is a bargain. It's a durable toy that is made solid. If you take good care of it, then it can easily remain in great condition for many years to come.
Batman Beyond Statue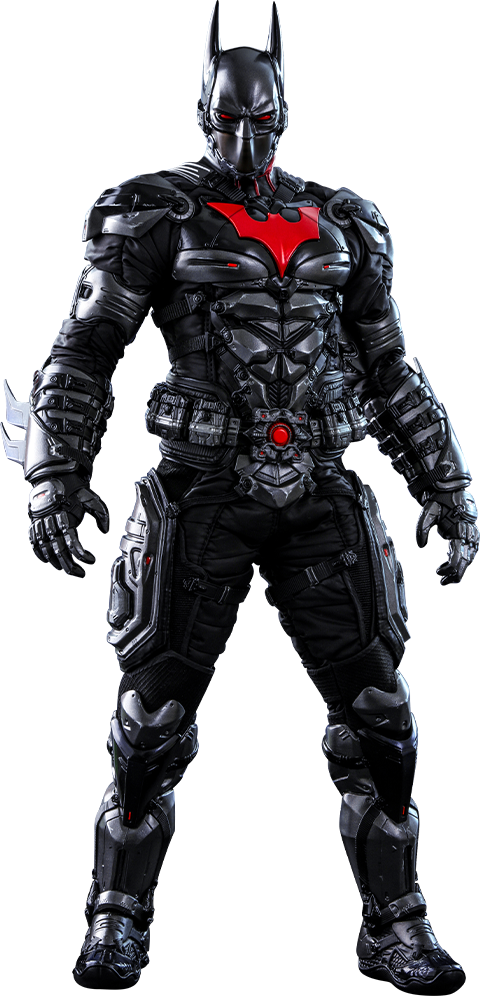 The animated series 'Batman Beyond' drew an increasingly loyal following who were thrilled at the prospect of seeing the Caped Crusader battle the forces of chaos in the Gotham City of the future. In the series, Terry McGinnis takes over from the retired Bruce Wayne and sports a new Batsuit allowing him to cope with the challenges of a new age. The suit was the inspiration for that worn in the 'Batman: Arkham Knight video game'.
The one-sixth scale statue from well-known crafters Sideshow and Hot Toys features a painted mask/head with interchangeable lower faces, a metallic grey Batsuit and a dynamic cape. The inclusion of Bat gadgets such as the evergreen Batarang (as imagined in Batman Beyond), a disruptor, grapple, freeze grenade and a whole lot more, make this statue perfect for those DC fans who want to customize their Batman experience.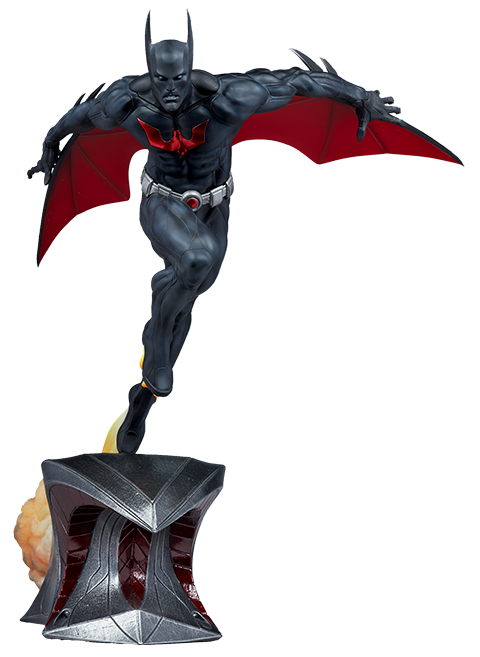 The Batman Beyond by Shadow Collectibles is a must-have for all CD Comics lovers. Measuring 21″ tall, the collectible features a fully-suited, elegant Terry McGinnis taking off of a Gotham City building rooftop. The statue is made from a high-quality polyresin and it features amazing details of the musculature of the hero and of the different tactical elements of the costume. The prominent silver utility belt and the red symbol on the chest of the costume gives this collective a high-tech look. The exclusive Edition of the Batman Beyond includes an animated portrait that's nothing short of amazing as well.
Other Batman Statues You Should Definitely Check Out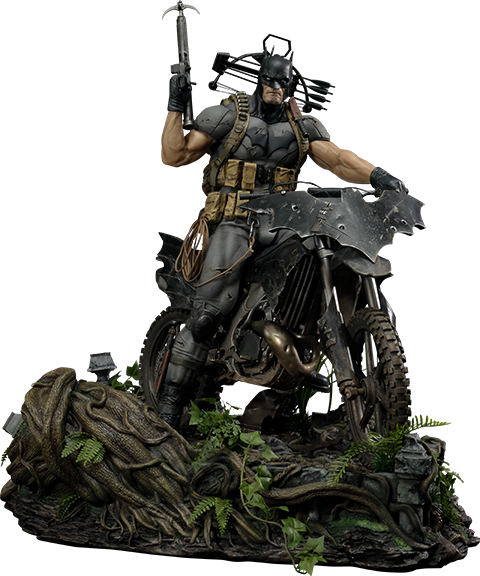 The Batman Zero Year Statue by Prime 1 Studio aims to set a fresh starting point of Batman in The New 52. This statue shows Batman riding on his bike. He lifts his right arm, while holding the Crossbow. In its Exclusive version, this Ultimate Museum Masterline Batman collectible statue comes with an additional right arm that holds a Grapple Hook. The statue with the basic open hand right arm is about 25″ tall. In the variant with the right arm holding the Crossbow, the statue is 27″ tall. Made from polystone, this collectible is a must-have for all Batman fans.
If you're a fan of Batman and of video games, you'll be pleased to learn about this new collectibles collection from Hot Toys. Inspired by the Batcave's Batsuit Chamber, the Arkham Knight Armory set of miniature collectibles is a must-have and the perfect gift to anybody who loves Batman and crime-fighting challenges.
All items in this collectible set are crafted with a great attention to detail. Thanks to the LED light-up function and amazing paint application, these items allow for a wide array of combinations, in order to generate an endless stream of diorama display choices. The height of the Armory Miniature collectibles is about 12cm. They are a must-have for all DC Comics lovers.
PS: If you are looking from some good review videos about Batman Statues, you should definitely check out the Youtube Channel from the Batman Statue Collector. We are big fans!